BC First Nations Forestry Council (FNFC) provides advocacy and support for capacity building and employment for BC First Nations entering the forest sector, with a number of available programs: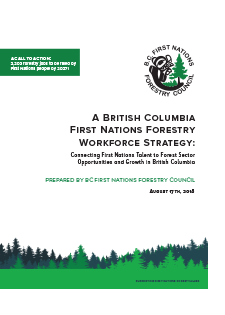 BC First Nations Forestry Workforce Strategy
The Workforce Strategy is has been developed as a long-term initiative to increase the participation and success of BC First Nations peoples in the BC forest sector training, careers, employment and self-employment - as forestry employees, managers, and executive staff, and forestry contractors and self-employed entrepreneurs.
Click here to download a copy.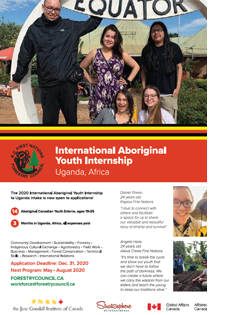 International Aboriginal Youth Internship 2019-2020
The First Nations Forestry Council is working with The Jane Goodall Institute of Canada, Fair Trade Carbon Uganda and Stratosphere International to provide intern opportunities for Canadian Aboriginal youth in Uganda.
This exciting opportunity is for Aboriginal youth to gain international experience in the areas of Environment, Forestry, and Sustainable Development.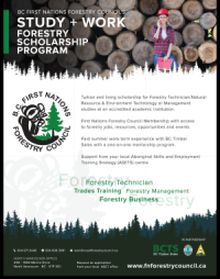 Study + Work Forestry Scholarship Program
Provided by the BC First Nations Forestry Council in partnership with BC Timber Sales (BCTS), Aboriginal Skills and Employment Training Strategy (ASETS), and BC Forest Service the program provides Tuition and Living scholarship, as well as paid work experience for First Nations and Métis Descent students. 
APPLICATION DEADLINE March 29, 2019
Relevant Links & Resources